Over the years we have developed a wide range of bakery production machines
As with all our products we are able to provide support by our UK based engineers. Because we've been in business since 1989 we have a wealth of experience.
Travelling Head Guillotine
This is one of our most widely sold products. Our travelling head guillotine is the most efficient, fast & reliable way of cutting  a number of products to include:
Flap Jacks/cereal bars
Brownies
Pastry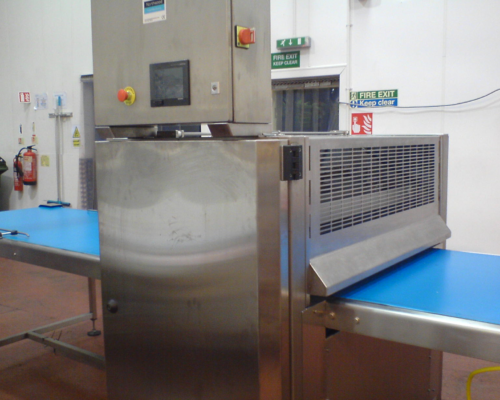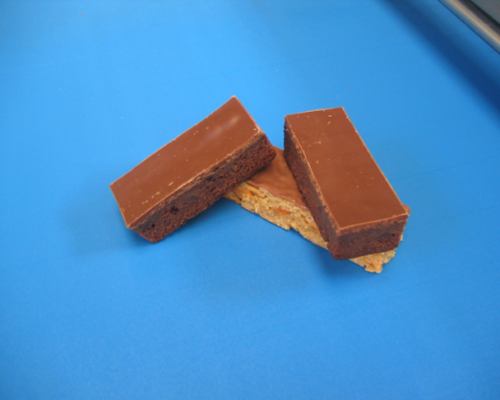 We are able to supply many different bespoke shapes of tooling for guillotines made by other manufacturers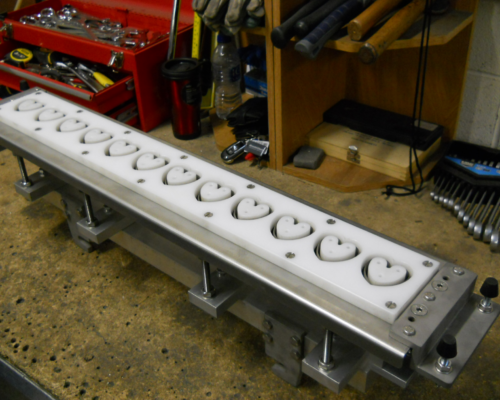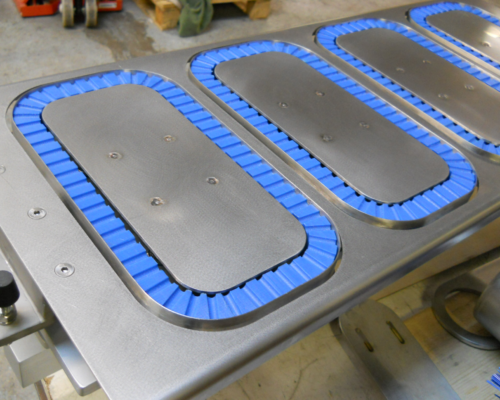 One of our guillotines supplied as part of a full pastry line project of ours.
You can see immediately after the guillotine we have provided a scrap take off system which comprises of 2 belts, 1 incline & 1 right angled across the product conveyor, this belt delivers the scrap pastry to a bin.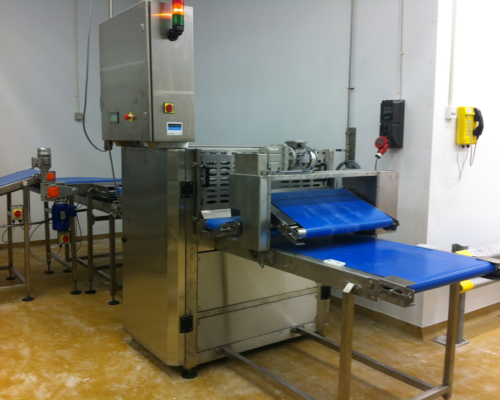 Complete Sausage Roll/Pasty Line
We have installed a number of complete lines & are happy to provide individual items also.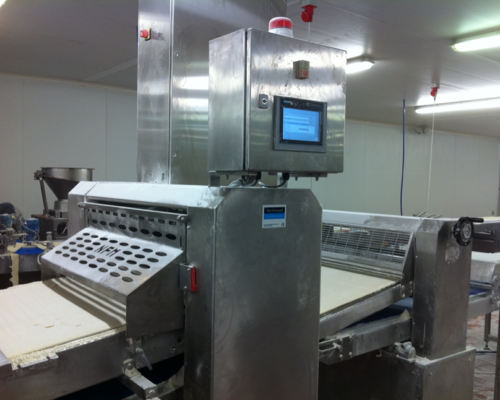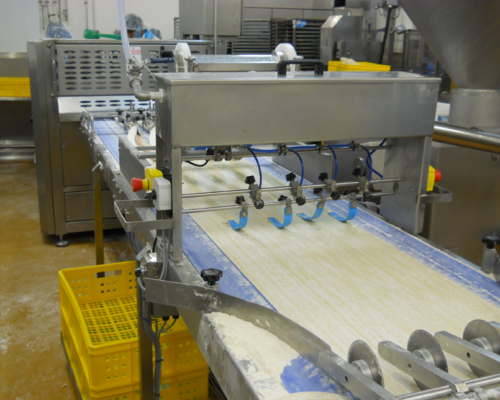 A typical Roll/Pasty line:
Incline & horizontal conveyors
Dusters
Cross Pinner
Gauging Rollers
Line cutters
Water drip application
Pastry folding & marking tooling
Guillotine
Glazing machine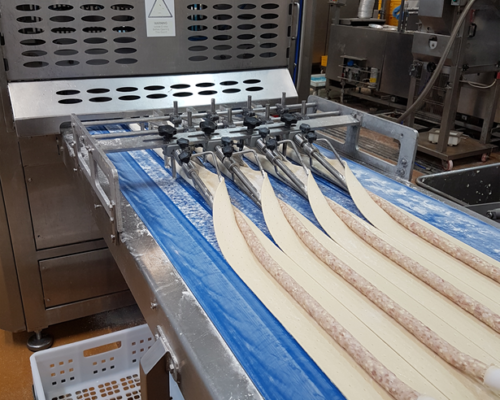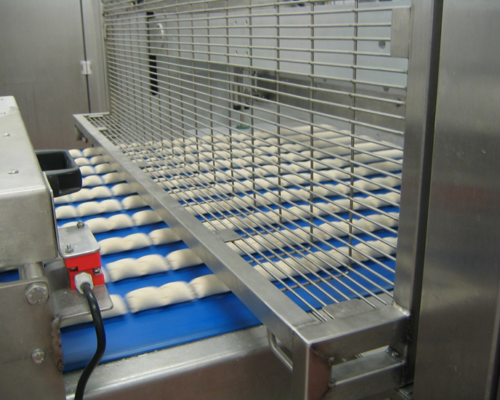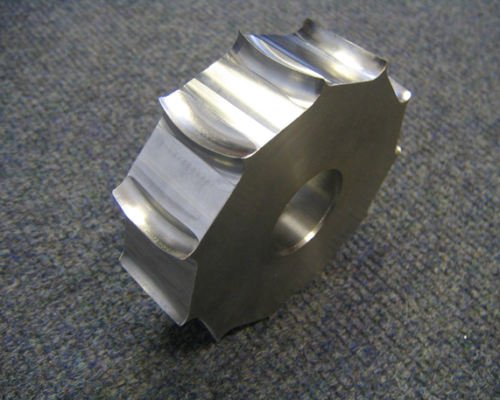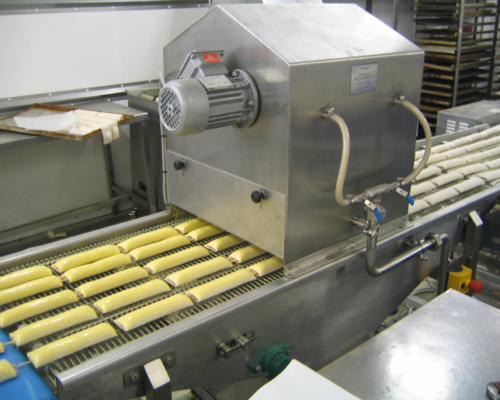 Pastry Line Processing
Other pastry line equipment that we manufacture: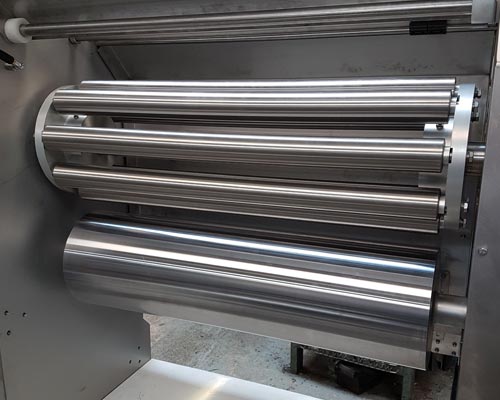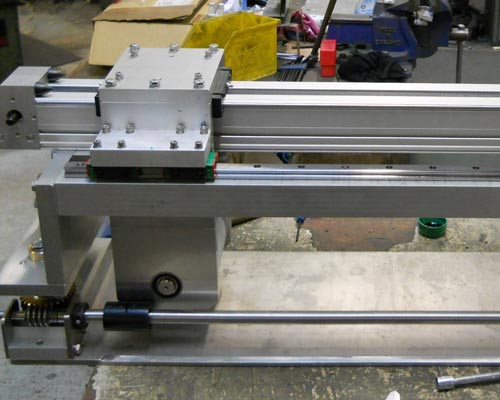 Multi-rollers:
Used to reduce laminated stacks of pastry down from Approx. 75mm to 7mm. Full electronic height adjustment via HMI touch screen.
Gauging Rollers:
Fine adjustment of pastry thickness. Full electronic height adjustment via HMI touch screen.
Cross Pinners:
Used to reduce the elasticity & stress in the pastry by rolling the pastry in 2 directions.
Laminator:
This device continuously folds the pastry. Full electronic setting & adjustment via HMI touch screen.
Butter Cutter
Large blocks of butter are manually loaded into the machine. The operator manually closes the slide guard & presses the cycle start button. The machine pushes the butter block through the cutting frame & the cut pieces drop into a tote bin that has been wheeled into the machine.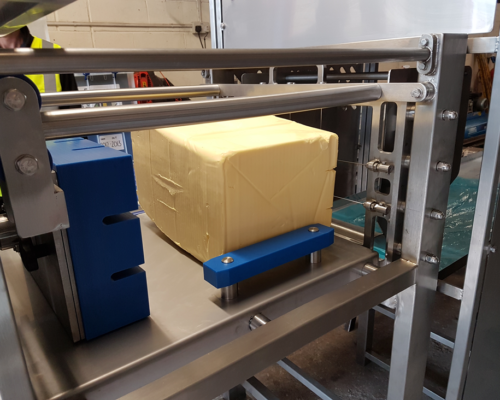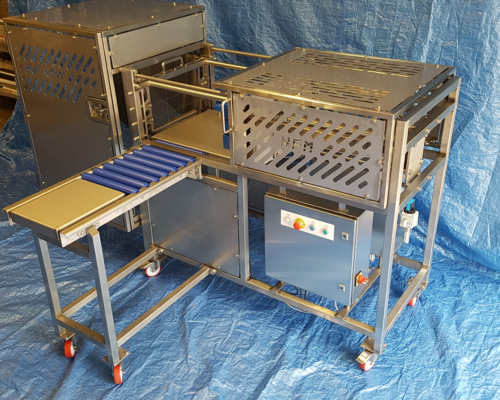 Baking Tray Loading Machine
This machine is designed for continuously loading sausage rolls and other pastry products into baking trays. The tray is loaded onto the end of an indexing conveyor by the operator. The conveyor moves the trays one at a time into the machine.
Products travelling from the main production line are transferred onto a belt conveyor that has a sensor at the very end. When the product reaches the sensor the end of the conveyor retracts in a rapid motion to deposit the products into the tray below.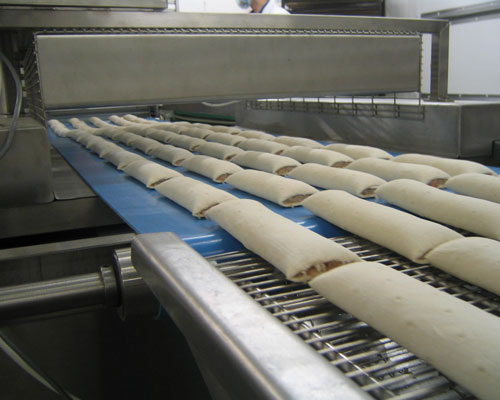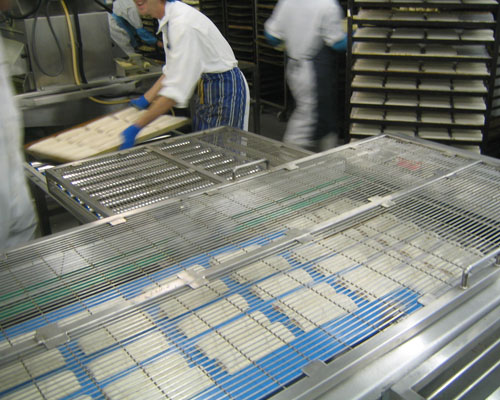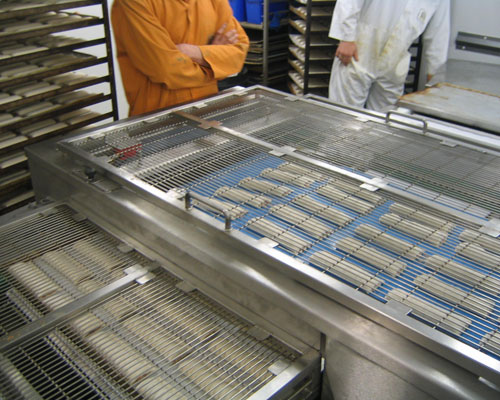 Particle Dispensers/Dusters
Originally designed for dusting a fine coating of flour onto pastry this machine has also been used for dispensing seeds and potato starch powder. It can be supplied as a stand alone unit on it's own mobile frame or built into a larger machine.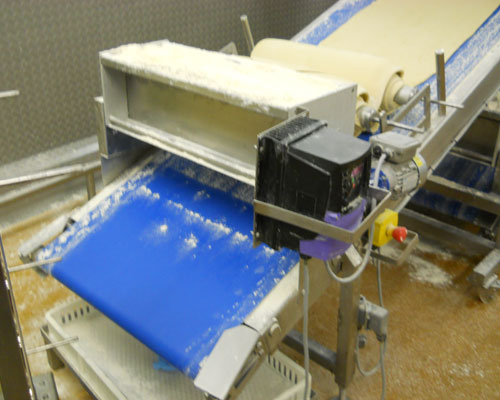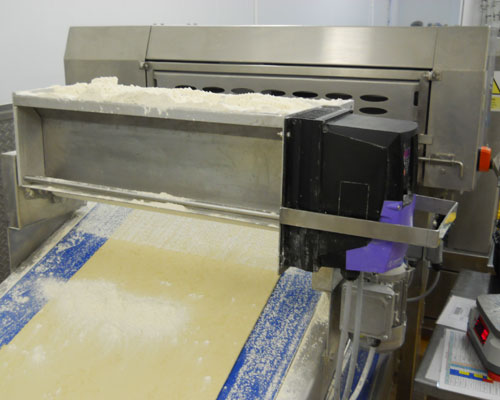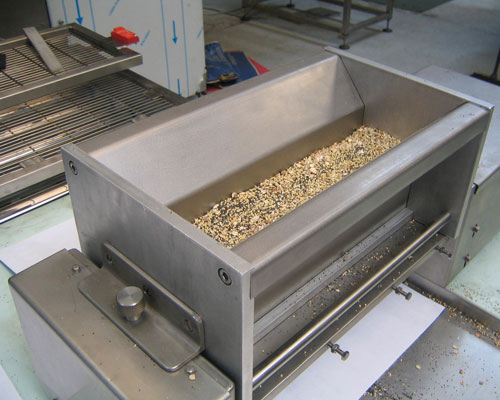 Complete Pie Line (Blocker)
We have developed an inline high output pie blocker available from 4 across up to 10 across.
The line features:
Pastry Extruder
Billet cutter & gaper
Foil dispenser
Blocking (pressing the pastry shell)
Filling point, (filling depositor to be supplied by others)
Lid extruder
Lid press/crimper
Lid scrap take-off system
Pie take-off system
We have developed a number of pie blocking advancements over the years to include a sophisticated dual stage electronic temperature control technique for the blocking die & base. We believe this system to be the most accurate & reliable which in turn translates to a superior product at increased delivery rates.
We are able to provide any tooling required so that different products can be run on the same line.